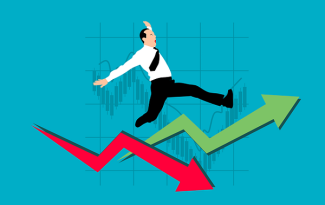 2023 Mid-Year Market Update: Is a Recession Still Looming?
Are we still going to see a recession this year? Time will tell, but there are a few interesting signs that we're keeping an eye on...
Let's take a closer look at some of the leading economic indicators.
Why did so many people think a recession was coming?
Inflation and interest rates, primarily.
Historically high inflation has cast a pall over the economy since early 2021.1
In response, the Federal Reserve has raised interest rates rapidly to bring inflation back down.
Analysts worried those rapid interest rate hikes could trigger a "hard landing" recession. But it looks like the dark mood is lifting. You can see in the chart below that inflation has been on a definite downward trend since last summer.2
That trend suggests that the Fed's interest rate program has worked to tame inflation.
So, will the Fed keep raising interest rates?
It's hard to say.
The Fed raised interest rates again by a quarter of a point at its July meeting, but it's possible that it won't raise rates again if inflation remains on a downward trajectory.4
In fact, some analysts think that the Fed's next move might be to lower rates in 2024.
Does that mean a recession is definitely off the table?
Not necessarily.
While the economy has been much, much more resilient than even seasoned analysts predicted, the accumulated effects of interest hikes may still deal a serious blow to growth.
There are also some signs that the economy is weakening in some areas.
For example, while American consumers are still spending, they aren't buying as much stuff.5 That's hurting the manufacturing sector, which has been in a slump for a while.6
Since consumer spending is worth about 70% of economic activity in the U.S. it's an important indicator for future economic growth.
Employment trends will also be important to watch. So far, the work of lowering inflation seems to have succeeded without damaging the job market. However, there are signs that the labor market may be weakening, so that's something to keep an eye on.3
Overall, things seem to be looking up.
The dark clouds on the horizon appear to be breaking and there are reasons to be optimistic. But, that doesn't mean it will be smooth sailing.
It's wise to be prepared for any type of market conditions. If you feel like your portfolio may need an update, please reach out to our office for a free initial strategy session. We will be happy to provide guidance and counsel to help you be prepared for both prosperous times and recessionary conditions.
---
Sources:
Disclosure:
Investing involves risk including the potential loss of principal. No investment strategy can guarantee a profit or protect against loss in periods of declining values. Past performance does not guarantee future results.
This material is for information purposes only and is not intended as an offer or solicitation with respect to the purchase or sale of any security. The content is developed from sources believed to be providing accurate information; no warranty, expressed or implied, is made regarding accuracy, adequacy, completeness, legality, reliability, or usefulness of any information. Consult your financial professional before making any investment decision. For illustrative use only.