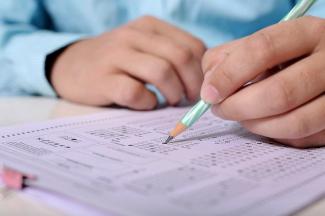 3 Things to Know About Test-Optional Schools
With the COVID-19 pandemic throwing a wrench in many families' college plans, numerous colleges and universities have made changes to their admissions processes to accommodate the needs of more students. One of the most sweeping changes that has occurred over the past year is the elimination of the standardized testing requirement.
However, many parents don't fully understand what the new changes may mean for their student. While many families may take "test-optional" to mean that their student does not need to take the SAT or ACT at all, in fact, this isn't necessarily the case.
Here are 3 things you should know about "test-optional" schools:
1.) While more schools are becoming test-optional, many will still require standardized test scores for admission.
Due to the ongoing limiting of testing sites and opportunities during the pandemic, a large percentage (half to 2/3) of all colleges and universities in the U.S. have currently adopted test-optional admissions policies for the 2020-2021 and 2021-2022 school years. Even many of the higher echelon schools have followed suit. However, most of these policies are temporary, and many of these schools will likely resume requiring test scores once the effects of the pandemic diminish. While a few schools have permanently adopted test-optional policies, the majority of schools will likely resume requiring test scores for admission in the future - and quite a few still do even in the current environment.
2.) "Test-optional" is not the same as "test-blind."
Just because a school does not require the ACT or SAT for admission doesn't mean that it doesn't count! Currently, only a small handful schools in the U.S. (Hampshire College, Northern Illinois University, Loyola University New Orleans, University of New England, Catholic University, Dickinson College, Reed College, Washington State University, San Diego State, San Jose State, Cal Poly, and Caltech - for 2 years) are truly test-blind and do not consider ACT and SAT test scores in any way. All other colleges in the country will at least consider test scores when making admissions decisions. This means that if your student can perform well on these standardized tests, it is definitely in his or her best interest to submit test scores in order to improve his/her chances of acceptance (and potentially qualify to receive more merit-based financial aid).
This advice is confirmed by the fact that many test-optional schools still strongly encourage students to submit test scores. For example, the University of California system (which has temporarily adopted a test-optional admissions policy for the 2020 and 2021 school years) states on their website that "Submitting test scores can support students' statewide UC eligibility, application for certain scholarships, and help them fulfill some University graduation requirements."(1)
3.) Test scores may actually hold even more weight during the pandemic.
Due to the disruptions to the education system in general during COVID-19, many schools have modified their admissions requirements accordingly. For example, grades in high school classes may hold less weight in admissions decisions because the increase in online learning has prompted some high schools to temporarily institute pass/fail grading for recent semesters. Many extracurricular activities have been either severely curtailed or canceled altogether, meaning that students who normally would be able to promote their extracurricular accomplishments to help them stand out on their applications may not currently have the opportunity to showcase their talents as they had hoped. Even letters of recommendation may be more difficult to come by since teachers and other influential letter writers may not have the same level of personal contact with the student as they normally would.
With all that said, it would be wise for your student to take advantage of any available opportunities to show off his/her academic qualifications to the schools he/she is applying to. Performing well on the SAT and/or ACT is one of the easiest and most reliable ways to do this.
Bottom Line: Even in a "test-optional" environment, it behooves your student to prepare well and take the ACT or SAT several times to maximize his/her score. Doing so can not only improve his/her chances of admission to most schools, but may also help improve his/her financial aid eligibility.
Caveat: If your student is truly a terrible test-taker and cannot achieve a good score, this would be the only instance where not submitting his/her scores may be appropriate. In these cases, it is especially important to maximize other opportunities for the student to shine in his/her application - for example, through working hard to submit an exceptional admissions essay.
Need help planning for college during these unusual times? We're here for you! Contact our office to request a free initial strategy session to find out how to maximize your student's aid eligibility and properly position your student for success during the applications process.
Sources:
1) https://admission.universityofcalifornia.edu/response-covid-19.html
General Disclaimer:
This content is developed from sources believed to be providing accurate information and is not warranted. Information provided on this blog is for educational purposes only and should not be considered financial advice. Parents are encouraged to seek the counsel of a qualified college planner who is familiar with your specific situation before implementing any recommendations found herein or elsewhere.