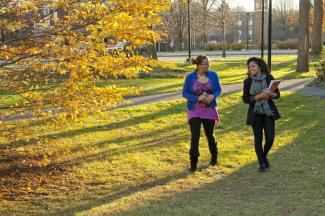 5 Things to Consider On a College Visit
Late summer and fall are great times to check out college campuses if your student is heading for college in the next few years. Many families time their college visits to coincide with summer vacations, but summer is often a slow time for many campuses, and may not give your student a true example of what it will be like during the school year. Scheduling your college visit around the start of the school year, or during the fall semester, is usually a better idea.
While on a college visit, there are a number of things that your student should consider when deciding if the college is a good fit for them. Here are 5 things your student should definitely pay attention to while on campus:
The Campus As a Whole
Is it easy to get around campus? Especially if your student will be starting college as a freshman without a car, the campus should be easily walkable and not too spread out to get from one class to another on time. Even if your student will have a vehicle on campus, campus parking can be a challenge, and in most cases, he or she will still need to walk to most (or all) classes.
What is the area like around the campus? Are there safety issues that would cause concern, such as parts of the campus being located in or near an undesirable neighborhood? Are there fun things to do off-campus on weekends? These are all things to consider when visiting a particular school.
The Dorms
Many colleges require freshman to live in the dorms on campus – at least for their first year. If your student is going to be living in a dormitory, this is an essential area to check out on a college visit. Get a tour of several dorms (since your student often won't be able to choose where they are placed the first year), and check out the dorm rooms, the common areas, and any security features. Also find out what is allowed in dorm rooms and what is not – hotplates, microwaves, and other similar items may or may not be allowed – it just depends on the campus and dorm rules.
The Cafeteria
Since your student will likely be eating 3 meals per day at the campus cafeteria(s) for at least the next 4 years, this is definitely something you will want to check out! For schools in more rural areas, the cafeteria may be the only option for food, but even if your campus is located in or near a city, it is still usually more convenient to eat on campus, especially with a full class schedule. Try to eat a meal in the cafeteria during your visit if possible. Find out what the campus meal plan includes, and what meal plan options are available. Are there meal plans that also include the rec center or student union food court? What about on-campus convenience stores? If your student is planning on living off campus, you may be able to get a smaller and cheaper meal package, but you also don't want to get one that is too small to meet your student's needs. Find out what is available and discuss the options with your student for each school that you visit.
The Library
Yes, libraries are still an important part of the college experience! Check out the library and explore the stacks and reference materials as well as the computer lab and study areas. Find out the library hours, and the computer usage policies. Are private study spaces available on request? If your student won't be bringing his or her own laptop to campus, do they have enough computers so that your student won't have to wait around to use a computer or print something?
Student Life/Organizations
If your student is interested in pledging a fraternity or sorority, find out about any requirements in advance, including any GPA requirements to join and/or remain a member, and make sure your student is up for the added responsibility. Ask about other clubs and organizations that may be available based on your student's interests. Remind your student not to over-commit themselves – especially during freshman year – but part of the college experience is meeting people and gaining experience in a group setting, and joining a club or organization can be a great way to do this, and may help your student develop his or her leadership skills down the road.
Other things check out while on a college visit include the classrooms, the rec center, and other student resources such as the health center, counseling services, career planning office, and of course, the financial aid office.
If you have questions about other things you should ask about or look into while visiting a campus, feel free to get in touch with our office for some suggestions. Just give our college planning team a call anytime at 614-300-9498 and we can help you get the information you need to make the right decisions when it comes to college planning!
Image Credit: NazWeb (Own work) [CC BY-SA 3.0 ], via Wikimedia Commons