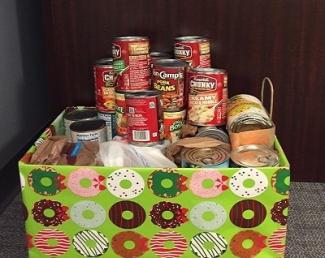 As we move into the holidays, we love to focus on giving back to our local community. This year's holiday food drive benefits Gahanna Residents In Need (GRIN). GRIN is a organization located right here in Gahanna, Ohio, which serves local area residents in need of food, clothing, and other necessities of daily living.
From November 18th through December 2nd, you can drop off non-perishable food items here at our office in Gahanna at 700 Taylor Road, Suite 170. (If you are a client, feel free to bring these items with you when picking up your holiday pie!)
Items especially needed for this holiday drive include:
Boxed Cheesy/Au Gratin/Scalloped Potatoes
Rice or Pasta Side Dishes
Canned Fruit
Canned Meats
Peanut Butter
Toilet Paper
Personal Hygiene Items (deodorant, razors, conditioner/shampoo, toothpaste, etc.)
Cleaning Supplies
Learn More About Gahanna Residents In Need
GRIN was known as the Gahanna Food Pantry from 1972 until 1999, when its name was officially changed to Gahanna Residents In Need. GRIN's official mission is to alleviate hunger for Gahanna-Jefferson school district residents.
In 2021, they added a Mobile Food Pantry to serve more residents in and around the Gahanna area, and this year, they celebrated their 50th anniversary of serving our community.
You can learn more about GRIN's organization, volunteer opportunities, and how to donate on their website at https://www.grin4gahanna.org/.