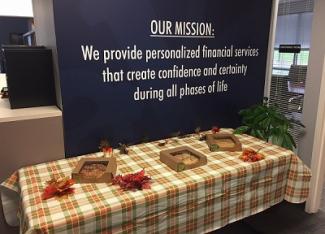 Holiday Happenings at Keystone
We have had a busy month here at Keystone! The holidays are always filled with activity, and this year has been no exception.
Here are just a few things we've been up to over the past few weeks:
1. Annual Thanksgiving Pie Giveaway
Our Annual Pie Giveaway has become one of our most popular events. During the week of Thanksgiving, this year we gave away over 60 pies to clients - setting a record for the event!
This little token of our appreciation is always well received, and we enjoy getting to see so many clients and spending a few minutes catching up with those we may not have seen in a while. Some clients drive from as far away as Thornville or Marysville to pick up a delicious pie for their holiday table! This year's most popular pies were pumpkin, apple, and mixed berry.
2. GRIN Food Drive
In conjunction with our pie event, we also held a food drive to benefit Gahanna Residents In Need (GRIN) - a local charitable organization that provides food, toiletries, and other necessities to needy families in the Gahanna area. We were excited to see so many people bringing in items to donate, and we truly appreciate the generosity of our clients! We were able to donate a nice big box of food to the GRIN pantry this season.
3. Staff Day Out
We actually enjoy hanging out with our fellow co-workers, so we like to get together and have some fun outside of work once in a while! A couple of times per year, we close our offices for the afternoon and head to a local eatery for lunch or happy hour, followed by a fun activity. This year, we enjoyed lunch at Brew Dog in New Albany, and tried out ax throwing at Dueling Axes in Gahanna. Some of us were more talented at this than others, but we all had a great time!
4.) Mid-Ohio Food Bank Service Day
Another annual holiday tradition is our company service day at the Mid-Ohio Food Bank. Next Wednesday, our staff and advisors (and their spouses) will spend an afternoon in the warehouse packing and sorting donated items to be shipped throughout Ohio to serve those in need this holiday season. 
Of course, we also have plenty of other things that we always look forward to this time of year, such as putting up the office Christmas tree, and our annual Keystone Holiday Party (which will be rescheduled until the New Year this year due to COVID-19) - and we are keeping busy serving our clients in the meantime. We wish everyone a very happy, healthy, and safe holiday season!
Our offices will be closed for the holidays this year on Friday, December 24th and Friday, December 31st.