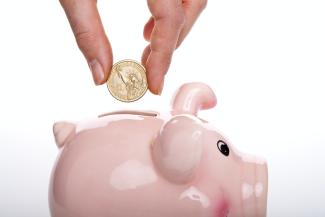 How to Create An Emergency Savings Fund
If the coronavirus has taught us anything, it's that every single person reading this should start the process of creating an emergency fund NOW.
This is not just a theoretical idea, nor is it a plain old savings account, but rather, it is a separate pool of money to only use in emergencies. So, how do you even start the process of creating an emergency savings fund?
Here are 5 steps for success:
Chat with your financial advisor on your specific needs. While your needs may vary, a good rule of thumb is to have at least three months'-worth of income saved in your emergency fund in case you need it (6 months is even better). This will allow you to continue to pay off bills or other expenses if you lose your job or need to take an extended leave in case of medical or family emergencies.
 
During this chat, you can start to structure your savings to ensure that both your long-term savings and emergency fund goals are met. For instance, if you could save $300 per paycheck, you could put $100 in your short-term emergency fund, and $200 in a Bank On Yourself® plan, which also provides a safe, liquid place to save money for future needs, but provides much higher long-term growth than just a traditional savings account. This way, you can be sure you have access to funds immediately when you need them, but you're also growing your savings predictably for the future. (You can read more about the pros and cons of Bank On Yourself here.)
 
You should look to continue to build your savings over time and keep a dedicated emergency fund. Most banks now allow automatic withdrawals to other accounts, which makes saving even more effortless! You can also set up a Bank On Yourself plan to make automatic monthly contributions for hands-off savings. Make sure to continue to make regular contributions, and your savings and emergency fund will grow over time.
 
As your current situation changes, continue to check-in with your financial advisor to see if you need to change your existing structure. You may need to change the amount of money you are putting in, and these adjustments are easy to make on the fly. One thing to note, once your emergency fund is filled to the amount that you feel comfortable with, you can start to re-direct that money into other savings vehicles, such as your Bank On Yourself policy. This will allow you to meet your long-term savings goals faster without changing your current situation or lifestyle.
 
Finally, you can also use other income that comes in during the year to help build your emergency fund more quickly. For instance, you may run into some extra money from a side gig or have an unexpected bonus come in. Instead of spending this extra income, why not invest in your future by setting it aside in your emergency fund or putting into long-term savings so you can access it when you really need it?
The long-term effects of COVID-19 are unclear, so the time to create your emergency savings fund is now! It's time to set up a meeting with your financial advisor and discuss how you can reach your savings goals and sleep better at night during any economic situation with an emergency fund.
Contact our office today to set up a FREE initial strategy session with a financial professional who can help you determine the best methods and strategies for protecting and growing your wealth for the future.
Disclosure:
The information presented here is for educational purposes only and is not a solicitation for the purchase of any insurance or financial product. The authors, publisher and host are not providing legal, accounting or specific advice for your situation. This information has been provided by a Licensed Insurance Professional and does not necessarily represent the views of the presenting insurance professional. The statements and opinions expressed are those of the author and are subject to change at any time. All information is believed to be from reliable sources; however, presenting insurance professional makes no representation as to its completeness or accuracy. This material has been prepared for informational and educational purposes only. It is not intended to provide, and should not be relied upon for, accounting, legal, tax or investment advice.
Bank On Yourself policy dividends are not guaranteed. All guarantees are based on the claims-paying ability of the insurer. Excess policy loans can result in termination of a policy. A policy that lapses or is surrendered can potentially result in tax consequences. Before purchasing such a policy, make sure you are working with a licensed Bank On Yourself Professional, who has been trained in the proper design and usage of these types of policies. By requesting an appointment and providing your information, you give consent to be contacted via phone and/or email by a licensed Bank On Yourself Professional or his/her representative.