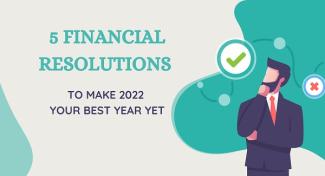 [Infographic] 5 Financial Resolutions for 2022
The start of a new year is the perfect time to reassess your personal and financial goals, and to put a plan in place to move you closer to achieving them.
Whether you are just starting to think about your finances, or you are well on your way to retirement, financial planning is an ongoing activity that will need your attention throughout the various stages of your life. No matter what stage you find yourself in this year, there are plenty of ways to improve your financial situation and create beneficial financial habits.
The infographic below provides 5 simple ideas to help improve your financial health (and wealth) in 2022 and beyond. This handy resource is designed to help you make this year the one that takes you closer than ever to your goals!
What you'll learn:
 How you can be more charitable in 2022
 How to get your finances organized
 Ways to save more and cut unnecessary costs
 How to prepare for the unexpected
 Where to look for more information on achieving holistic financial wellness
This year, make sure your financial wellness is an important part of your list of resolutions with these simple tips:
New Year's resolutions are often made with the best intentions but promptly forgotten. At Keystone Financial Group we want to make sure that you have all the tools available to reach your financial goals this year and beyond. Contact our office today for a free financial strategy session to make sure your financial plan is on track! We will be happy to help make your New Year's resolutions a success.
Disclaimer:
This content is developed from sources believed to be providing accurate information. The information provided is not written or intended as tax or legal advice and may not be relied on for purposes of avoiding any Federal tax penalties. Individuals are encouraged to seek advice from their own tax or legal counsel. Neither the information presented nor any opinion expressed constitutes a representation by us of a specific investment or the purchase or sale of any securities.