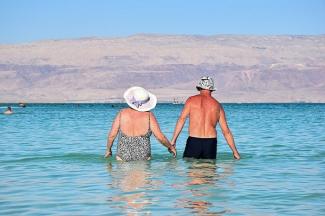 [Infographic] How to Protect Your Retirement Dreams from Long-Term Care Costs
No one likes the idea nor the possibility of needing long-term care (LTC). But the truth of the matter is that 70% of those age 65 and older will need some form of LTC.1 As life expectancy continues to rise as a result of medical and technological advances, more and more Americans should take steps prepare in advance for their older years.
LTC is not just a concern of the elderly, but also a pressing topic to consider in your earlier years as you look into the future of your health and financial well-being. In fact, did you know that nearly 41% of LTC recipients are those under the age of 65 due to illnesses, injuries, disabilities, or accidents?2
And the need for long-term care doesn't just impact those who need care - it also impacts the lives of their loved ones. On average, caregivers spend 20 hours per week giving care and if you're relying on your spouse or children, this can quickly become stressful and overwhelming.
It is already projected that 41% of Baby Boomers aged 35-60 are estimated to run short of funds during retirement.3 How have you planned for unexpected expenses that could cripple your retirement savings?
If you're not saving or thinking about LTC, you should be. Many Americans understand the importance of building a retirement nest egg, but they're not putting a lot of thought into LTC ahead of time.
The odds are that you and/or your spouse will one day require long-term care, either for a short time or for an extended period. Before that time comes, be sure you understand how LTC would impact your future.
Long-term care insurance (LTCI) could provide the solution you need so you don't deplete your nest egg or burden your loved ones. You don't think twice about insuring your car, right? You protect your home and everything in it. Why not take the same care to protect your future?
Consider the odds:
1 house in 335 catches fire every year.4
1 car in 52 is in an accident every year.5
1 person in just 1.4 age 65 and older will need long-term care.6
What if you – like so many Americans – should need LTC?
Here are some important facts and figures about protecting your retirement dreams with long-term care insurance:

According to AARP, the optimal age to shop for a long-term care policy, assuming you're still in good health, is between 60 and 65.7  Waiting comes with a risk. The timing is about the higher odds of having medical exams uncover issues that could make it more difficult to qualify for long-term care insurance, so if you're wondering when you should look into long-term care insurance, do it while you're still healthy.
Finding, understanding, and comparing long-term care insurance (LTCi) policies can be overwhelming, so start by having a conversation with an expert. Contact our office today to discuss your options.
Sources:
[1] [2] http://www.altcp.org/long-term-care/long-term-care-statistics/
[3] https://www.fool.com/retirement/2019/05/19/heres-how-many-us-households-will-run-out-of-money.aspx
[4] Ahrens, Marty. National Fire Protection Association. "Home Structure Fires." Sept. 2015.
[5] U.S. Department of Transportation National Highway Traffic Safety Administration. "Quick Facts 2014." March 2016.
[6] U.S. Department of Health and Human Services. 2016, June 24. "Who Needs Care?" http://longtermcare.gov/the-basics/who-needs-care/.
[7] https://www.aarp.org/caregiving/financial-legal/info-2019/when-to-buy-long-term-care-insurance.html
Disclaimer:
This document is for educational purposes only and should not be construed as legal or tax advice. One should consult a legal or tax professional regarding their own personal situation. Any comments regarding safe and secure investments and guaranteed income streams refer only to fixed insurance products offered by an insurance company. They do not refer in any way to securities or investment advisory products. Insurance policy applications, inclusive of long-term care products, are vetted through an underwriting process set forth by the issuing insurance company. Some applications may not be accepted based upon adverse underwriting results.  Benefit payouts are based upon the claims paying ability of the issuing insurance company. The firm providing this document is not affiliated with the Social Security Administration or any other government entity.