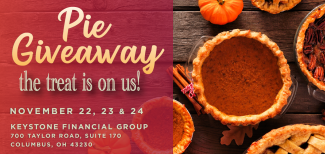 In preparation for the holidays, and as a token of our appreciation for our clients, we're giving away free pies!
That's right.... If you are an active client of Keystone Financial Group or Keystone College Planning, we would like to give you a FREE holiday pie as a little gift to show that we appreciate your business and your support! We will have a selection of fruit, pumpkin, and other holiday-themed pies available.
Clients can pick up their free pie* at our office located at:
700 Taylor Road, Suite 170
Gahanna, OH  43230
Pie Giveaway Dates:
Monday, November 22: 10:00am - 6:00pm
Tuesday, November 23: 10:00am - 6:00pm
Wednesday, November 24: 9:00am - 2:00pm
RSVP is not required, but please bring the invitation card that you received in the mail when picking up.
If you would like to participate in our holiday drive to support Gahanna Residents In Need, feel free to bring a non-perishable food item to donate when picking up your pie! (See more information on the drive here.)
We look forward to seeing you next week!
(Curbside pickup is also available if desired. For curbside pickup, please park in the front or side lot and call 614-300-9498 when you arrive and we will be happy to bring your pie out to you.)
* 1 pie per client household.