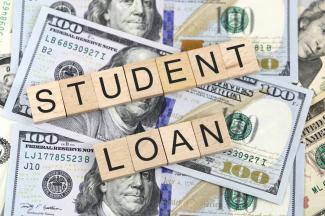 Student Loan Forgiveness Q&A
Have questions about the recent student loan forgiveness announcement?
We've got (some) answers.
You've probably heard by now that the government plans to forgive federal student loans for roughly 20 million Americans.1
Here's what we know about the loan forgiveness so far:2
The Dept. of Education will forgive up to $10,000 in federal student loans to single borrowers who earned less than $125,000 and households that made less than $250,000 in 2020 or 2021.
Borrowers of federally-held undergraduate, graduate, and Parent PLUS loans are eligible, even if the loans are in default.
Recipients of Pell Grants will receive an extra $10,000 (totaling $20,000 in debt forgiveness) with the same income thresholds.
The student loan payment moratorium is also extended through December 31, 2022. This means payments start on your new balance on January 1, 2023.
But! Here's a big detail that got left out of most headlines:
Under new Dept. of Education rules, monthly payments on undergraduate debt will be slashed to 5% of a borrower's "discretionary income," and the amount of income shielded from repayment calculations will also increase.3
This rule change could end up halving monthly payments for millions of folks and might be an even bigger deal than one-time forgiveness.
Here are a few answers to some of the most frequently asked questions we've been hearing about the new program:
Q: Will I owe taxes on the forgiven loan amount?
A: It depends. While you would typically owe federal taxes on forgiven debt, the American Rescue Plan exempted student loans from the usual federal tax rules.4
Many states have decided not to levy state taxes, but some states explicitly will or haven't announced their position. Depending on where you file state income taxes, you may owe taxes.
Q: What if I made loan payments during the moratorium? Can I get a refund?
A: Very likely. Any payments on your qualifying federal loans made since March 13, 2020 can be refunded by contacting your loan servicer.5
Q: How do I get my loans (or my kids' loans) forgiven?
A: According to the Dept. of Education, an online application will be available by October, and you'll have until December 31, 2023 to apply.2
Those who filled out FAFSA forms in 2021-2022 for themselves or their dependent children may be automatically enrolled in the forgiveness program because their relevant income information is already on file.6
Q: How big a deal is this whole thing, economically speaking?
A: It's hard to say just yet. Court challenges or administrative hurdles could change what actually happens and for whom.
Some folks think that forgiving student loans is a bad idea.
But the thing is, the federal government has forgiven loans for defrauded students, small businesses, farms, and public service employees for years, so those concerns are probably overblown.
Goldman Sachs economists ran some numbers on the expected effect of the current plan on the economy; they concluded that it probably won't have much macro impact at all, though the caps on monthly payments should increase household income.7
Q: Should I take out more loans so they'll be forgiven?
A: No. So far, only loans initially disbursed by June 30, 2022 will be covered by this plan. Anything taken out afterward will not be eligible.6
Q: What do I need to do right now?
A: Nothing. Nada. Zilch. The details are still being hammered out and more information will be coming. A great place to get alerts is from the Dept. of Education. You can sign up for them here.
IMPORTANT ALERT:
We're expecting A LOT of scammer activity targeting folks waiting for student loan relief. Please be VERY careful with emails or text messages claiming to be about your loans.
Get your information straight from reliable sources like the Dept. of Education or your student loan servicer's official website. You can also reach out to our in-house college planning team for advice and guidance.
We'll know more about the details of the plan in the weeks ahead, but if you have questions or want to update your financial or college planning strategies in anticipation of lower (or no) student loan payments, feel free to reach out to our office to set up a strategy session.
Sources:
1 - https://www.cnbc.com/select/biden-to-erase-up-to-20k-in-student-loan-debt-heres-who-qualifies/
2 - https://studentaid.gov/debt-relief-announcement/one-time-cancellation
3 - https://www.ed.gov/news/press-releases/biden-harris-administration-announces-final-student-loan-pause-extension-through-december-31-and-targeted-debt-cancellation-smooth-transition-repayment
4 - https://taxfoundation.org/student-loan-debt-cancelation-tax-treatment/
5 - https://www.cnbc.com/2022/08/25/how-to-get-a-student-loan-refund-and-boost-forgiveness-eligibility.html
6 - https://www.nasfaa.org/news-item/27820/Answering_the_10_000_Question_Biden_Takes_Executive_Action_on_Student_Loan_Cancellation_Extends_Repayment_Pause
7 - https://www.marketwatch.com/story/goldman-sachs-has-run-the-numbers-on-student-loan-relief-heres-their-assessment-11661417918
8 - https://finance.yahoo.com/news/stock-market-tanked-since-jerome-211327050.html
Photo by Nick Youngson CC BY-SA 3.0 Pix4free
Disclaimer:
This content is developed from sources believed to be providing accurate information. The information provided is not written or intended as tax or legal advice and may not be relied on for purposes of avoiding any Federal tax penalties. Individuals are encouraged to seek advice from their own tax or legal counsel.