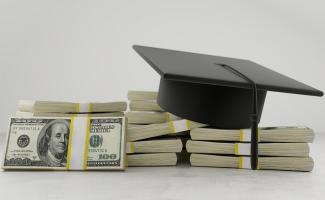 Understanding the College Investment
College costs continue to climb, and it seems every few months the student loan debt bubble hits a new high. The total amount of student loan debt in America currently hovers around $1.7 Trillion, and despite the recent political rhetoric around "free college" and the various student loan relief packages being discussed on the political stage, we fully expect to see that number hit $2 Trillion in the next few years. Without question, this is a huge problem for our economy - and for the generations of students currently facing decades of student loan payments that will hinder their ability to begin building wealth and saving for the future.
However, although the cost of college tuition and fees have increased over 1,200% since 1980, the high cost of college is not the only contributor to this problem. We believe that the other key factor is lack of proper planning.
Of course, we know that parents want the best for their children. Most families have at least thought about planning for college, and many have set aside at least some money for their children's education. Yet, the average 529 plan balance hovers at around $26,000 - approximately enough to pay for 1 year of college at a state school.
As parents, we understand that you have the best intentions when it comes to planning for college. However, it is difficult to make wise decisions without understanding the investment you are getting ready to make. And college is an investment - a huge one. But most parents don't approach the process with this mindset, and this leads to millions of families overpaying for college.
Our goal, as holistic financial professionals, is to help families understand the full picture when it comes to planning for college. This means not only how college costs will impact your immediate cash flow or your student's financial future, but also what paying for college will ultimately mean for your own retirement.
In order to understand the investment of college, you have to know your numbers. Many families simply use the net price calculator on each college's website to compare costs, and while this is a good start, there is a LOT of pertinent information missing from these numbers which can impact your college plan.
You need to know not only what your family will be expected to pay for each school, but also exactly what you'll be getting in return for your investment. Only by understanding both sides of the equation can you truly make an informed financial decision on the investment of college.
Here are 3 questions you need to answer when comparing schools in order to make a sound investment:
What will each school actually cost our family?
What will our monthly loan payments really be?
What are the average first year salaries of graduates from that school in our student's specific major?
And lastly, while colleges and universities do a great job at marketing themselves, they rarely (if ever) provide the answer to the main question every family should be asking:
Are the long-term benefits of attending this school actually worth the cost?
While the schools themselves may not provide a clear answer to this question, this is one thing that we focus heavily on with our college planning clients. We feel that is very important that you understand:
what the schools think you can afford (your "EFC")
how to budget for what your family can afford to pay for college,
how to shop smartly and choose the right college for the right price, and
how to understand the metrics behind your college investment.
What does this all look like in tangible terms? Here is just one example of the type of planning tools that are available to our college planning families.
Our advanced school search tool allows you (or your student) to search our massive database of every college and university in the U.S. according to the following specifications:
By Distance: Select schools up to 100, 200, 500 or over 1,000 miles away. Or, if distance isn't a deal breaker, you can search the entire U.S.. 
By State: Want to get more specific or only look at in-state schools? You can just select the individual state you want to focus on.
By Major: Choose from 40+ fields of study to help refine your search and find schools that offer that major.
By Ranking: Narrow down the top undergraduate institutions by Top 10, Top 50, Top 100 or do a general search within all 650 schools ranked by Forbes. 
By Funding Gap: Search for schools within $30,000, $50,000, or $100,000 of your predetermined budget. (This is a big one!)
Once you've refined your school list, you can begin researching each school in detail, and we provide tools for that, too. At the click of a button, you can have some of the most important metrics for every school at your fingertips - including:
The current cost of attendance at that school
Admissions requirements such as GPA, test scores, etc.
Financial aid & other deadlines
Average percentage of need-based aid awarded by that school
How much of the "need met" is typically awarded in free money/grants versus loans
Average amount of merit-based aid awarded by that school
Average endowment money per student (indicates the financial strength of the school)
A list of all merit aid opportunities offered by the school (with links to apply)
And more!
But again, this is only one part of the equation. The other question is - what will a degree from this school yield?
That's why our college planning software now includes a module that actually shows you the average salaries that a student in a specific major from a specific school can expect to make in their first, fifth, and tenth years in the work force.
Once you have this information, you can compare it to the cost information you gathered for each school in order to determine the value of the investment, and determine whether it makes sense for your family or not, and then you can start to figure out what is the best way to pay for your remaining college gap.
Note: As a general rule of thumb, when it comes to borrowing, we recommend you borrow no more than your student's expected first year salary in total loans. This level of debt is generally manageable, and will keep your family from getting in over your heads with debt payments.
Fortunately, our college funding platform makes finding all of this data easy! By using our customized reports, families are able to view details as specific as:
Your funding gap
Your first year salary
Your monthly take home pay
Your monthly loan payment
And more!
Want to see an example? This short video provides a quick demo of some of the features described above:
As a client of Keystone College Planning, you will have access to this portal and will be able to view your own numbers in real time. And, we will work with you one-on-one through each step of the college planning process to help you determine which college(s) are the best investment for your student. For more information on our college planning services, or to attend an educational workshop in your area, please visit our college planning website here.
Ready to get your college plan on track and make a smart investment in your child's future? Contact our office today for a free initial college planning strategy session! We look forward to helping you understand your numbers and make wiser financial decisions.
Disclaimer:
The information presented here is for educational purposes only and is not a solicitation for the purchase of any financial product. The statements and opinions expressed are those of the author and are subject to change at any time. All information is believed to be from reliable sources; however, presenting financial professional makes no representation as to its completeness or accuracy. This material has been prepared for informational and educational purposes only. It is not intended to provide, and should not be relied upon for, accounting, legal, tax or investment advice.