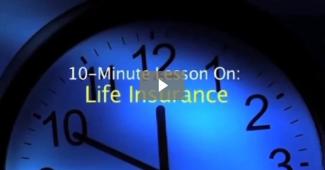 [Video] 10-Minute Lesson on Life Insurance
Life insurance can be a very valuable financial tool, and although it may not sound terribly exciting, life insurance can be a lot more complex than most people realize. There are many different types of life insurance, and each of them has different features, benefits, and functions in a well-rounded financial plan.
While life insurance was originally designed to provide protection for families in the event of an unexpected loss of a income-earning family member, it has evolved to provide a number of living benefits as well. Most of the general public is not aware of many of the living benefits offered by cash-value whole life insurance, for example.
The quick video below discusses two of the most common types of life insurance - Term insurance and cash-value Whole Life insurance - and breaks down life insurance in simple terms that make it easy to understand the differences between the two.
You will also learn about some of the unique living benefits that many people aren't even aware that life insurance can provide, as well as a few important details about how to fund a policy in order to receive the maximum benefits that it can provide throughout your lifetime and beyond.
Watch this short video now to learn the basics of why life insurance is such a useful vehicle for so many different financial planning needs:
Want to learn more about how adding life insurance to your financial plan could help you achieve your most important short and long-term financial goals and objectives? Contact our office to set up a time to speak with one of our Certified Financial Fiduciaries®, or call our office at 614-300-9498.