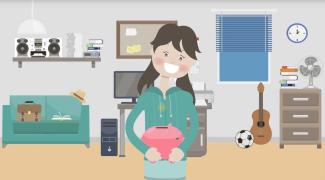 [Video] 3 Money Management Principles for Children
Financial literacy starts at an early age. The lessons we learn about money as children follow us into adulthood, and can impact the way we spend, save, and generally interact with money as adults. This is why it is so important to begin teaching your children good money management principles while they are young.
It's important that children learn how to think intelligently about money and purchasing decisions as they grow. Being able to evaluate financial decisions without letting emotions rule is crucial for adults as well, and it's a skill that should be learned early for best results! Earning and saving are also simple principles that can be instilled in children from a  young age.
Here are 3 solid money management principles that you can teach children starting in elementary school (and remember, teaching by example is always best!):
*This content is developed from sources believed to be providing accurate information. The information provided is not written or intended as tax or legal advice and may not be relied on for purposes of avoiding any Federal tax penalties. Individuals are encouraged to seek advice from their own tax or legal counsel. Individuals involved in the estate planning process should work with an estate planning team, including their own personal legal or tax counsel. Neither the information presented nor any opinion expressed constitutes a representation by us of a specific investment or the purchase or sale of any securities. Asset allocation and diversification do not ensure a profit or protect against loss in declining markets. This material was developed and produced by Advisor Websites to provide information on a topic that may be of interest. Copyright 2023 Advisor Websites.