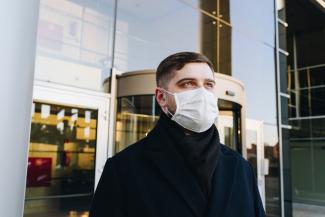 What History Can Tell Us About the Post-COVID-19 Investing Market
There's no two ways about it – the COVID-19 pandemic has been a historic moment around the world. From the financial markets to our daily lives, many of the norms we took for granted back at the beginning of the year have been shaken up. Given the unprecedented nature of this disease's impact on society, it may feel difficult to predict what a post-COVID-19 investing market will look like.
The financial effects of a major pandemic are not entirely without precedent. In fact, just over 100 years ago, the US and the world struggled to contain a pandemic of H1N1 influenza (sometimes known as the Spanish Flu). We can learn a few lessons from that pandemic as well, so perhaps it is time for us to flip open the history books for some insight.
It's Not Over Until It Is Over
First and foremost, the 1918 flu pandemic should teach investors that the dangers of the disease are not gone until long after the coast has seemingly cleared. The 1918 flu pandemic saw three major spikes in cases over the course of its multi-year progression. Each of these spikes caused the financial markets to take a hit.
Knowing this, don't simply start reinvesting on the belief that things will blow over sooner than later. While it may feel tempting to try to get back into regular investing on the precipice of a perceived rise in the market, this current pandemic could spike again and crash the markets further. Be cautious, and consider consulting with your financial advisor to discuss your options for diversifying at least part of your portfolio into less risky vehicles.
There Will Be a Recession
Most experts agree that the US (and likely, the rest of the world) will face an economic recession as this pandemic continues, just as it did in 1918 and beyond. This new recession may last longer than the pandemic, depending on how much damage is done to the economy. Even though some legislation may help deaden the impact of this recession slightly, wise investors should understand that a bearish market is likely to continue for the foreseeable future.
The Market May Not Reflect the Economy
When considering your long-term investments, it's important to remember that the stock market and the economy are not one and the same. There's a good chance that the stock market shows signs of life before the average American family feels economically stable again (as was the case in the 1918 pandemic). This is important to keep in mind because the growth exhibited by certain stocks may be more volatile than they appear.
Stock values rise for a variety of reasons. Ideally, one of those reasons would be consumer confidence in that company. But that may not be a cause of stock value increases if the recession comes to fruition. Any  investments made during this period should be extra cautious to account for that added level of uncertainty.
The Bottom Line
The impacts of the 1918 flu pandemic are not always comparable to our experiences with the COVID-19 pandemic today. But when it comes to planning for future investments, there are a few lessons we can glean. Keep these in mind as you go forward, and make well-informed plans for investing over the next several months and years.
Want to review your portfolio and make sure you are on track to achieving your long-term financial goals - no matter what happens in the markets? Contact our office today for a free financial review.
* This content is developed from sources believed to be providing accurate information. The information provided is not written or intended as tax or legal advice and may not be relied on for purposes of avoiding any Federal tax penalties. Individuals are encouraged to seek advice from their own tax or legal counsel. Individuals involved in the estate planning process should work with an estate planning team, including their own personal legal or tax counsel. Neither the information presented nor any opinion expressed constitutes a representation by us of a specific investment or the purchase or sale of any securities. Asset allocation and diversification do not ensure a profit or protect against loss in declining markets. This material was developed and produced by Advisor Websites to provide information on a topic that may be of interest. Copyright 2023 Advisor Websites.