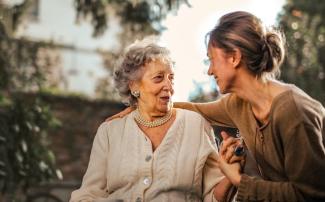 10 Reasons to Talk About Your Long-Term Care Needs Sooner Than Later
We all need to plan for care for ourselves and our loved ones as time goes by, but talking about long-term care needs can still be an uncomfortable topic for many people. Nonetheless, it is important to address it sooner than later, as planning in advance can make the process much less stressful and costly than waiting until care becomes an urgent need. A recent survey found that most people - from financial professionals to individual consumers - agree that this important conversation needs to happen sooner than it usually does.
Here are 10 reasons why it's time to start talking about your long-term care needs now!1
Reason #1
96% of Americans surveyed feel it's important for families to talk about their long-term care preferences.
Reason #2
9 in 10 financial professionals surveyed agree that even for those who can self-insure, long-term care coverage can provide tax-free financial leverage.
Reason #3
93% of financial professionals surveyed agree that people wait too long before discussing long-term care plans and options.
Reason #4
Americans underestimate the potential cost of long-term care, which can amount to more than twice as much as they assume.
Reason #5
98% of financial professionals surveyed agree it's important for people to plan in advance of needing long-term care.
Reason #6
96% of financial professionals surveyed say that clients who have long-term care insurance feel more confident about their financial future.
Reason #7
Of the financial professionals surveyed, more than 9 out of 10 feel that people should plan long-term care earlier than they do.
Reason #8
78% of individuals surveyed worry that they wouldn't be able to provide adequate care if somebody in their family needed it.
Reason #9
73% of consumers surveyed believe that living a healthy lifestyle is the answer. BUT while living a healthy lifestyle may result in living longer, that doesn't mean you'll avoid health-related risks associated with aging.
Reason #10
93% of financial professionals feel it's valuable to meet clients and their children as too many consumers are reluctant to ask loved ones for help.
Here are a few more important considerations to keep in mind when discussing your long-term care needs:
1. Who pays the bill?
Medicare doesn't cover long-term care (LTC) if that's all you need, and when it does cover costs, it's only available for a specific number of days. If you need custodial or more extended care, who pays the bill?
If you're hoping to stay home, you'll want to plan with a LTC policy that provides coverage irrespective of where you receive care.
 2. Are the odds against you?
Adults over age 65 have a better than 70% chance of needing LTC and women stay in long-term facilities an average of 1.5 years longer than men.2
If you think that your savings is enough to get you through, consider an insurance policy that covers your LTC so you have the funds you need to support your lifestyle or to leave to your beneficiary.
3. Longevity increases risk
Along with scientific advancements comes the benefit of living longer. Unfortunately, longer lifespans bring with them increased living costs, with the national average annual cost of an assisted living facility estimated to nearly double to $100,456 by 2042.3
If you're assuming that your LTC will be in a facility, consider the numbers of Americans that'll be over age 65 needing the same care as you. A LTC policy can afford you the services you need in the comfort of your own home.
4. Sharing isn't always caring!
With over 80% of home care being paid for by unpaid caregivers,4 sharing the cost of your LTC with your family can cause rifts if your family isn't financially prepared to fund your needs.
If you're looking for an upside to all of this, there are several tax incentives and deductions with regards to long-term care insurance. Consult your tax advisor to discover what's available in your state.
Want help planning for your or a loved one's long-term care needs? Contact our office today for a free initial strategy session with a Certified Long-Term Care

®

consultant.
Sources:
1) Adapted from Lincoln Financial Group.
3) https://www.genworth.com/aging-and-you/finances/cost-of-care.html
4) https://acl.gov/ltc/basic-needs/who-will-provide-your-care
Disclaimer:
This document is for educational purposes only and should not be construed as legal or tax advice. One should consult a legal or tax professional regarding their own personal situation. Any comments regarding safe and secure investments and guaranteed income streams refer only to fixed insurance products offered by an insurance company. They do not refer in any way to securities or investment advisory products. Insurance policy applications, inclusive of long-term care products, are vetted through an underwriting process set forth by the issuing insurance company. Some applications may not be accepted based upon adverse underwriting results.  Benefit payouts are based upon the claims paying ability of the issuing insurance company. The firm providing this document is not affiliated with the Social Security Administration or any other government entity.