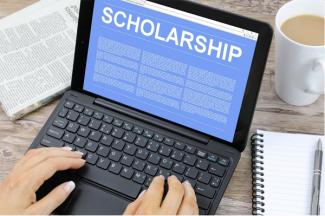 10 Ways to Find College Scholarships
One of the most common questions we hear from families at our college planning workshops is how to find and qualify for more college scholarships.
While there are many other pieces of the college puzzle that are more important (such as fully understanding the college investment and how to maximize your financial aid dollars from each school), outside scholarships can also be a great supplementary source of aid, so your student should plan to apply for 10-20 appropriate outside scholarships.
Finding scholarships should be an ongoing process throughout your student's later high school years and even through the college years. Most scholarships are for one year (or sometimes one semester) only, so your student will either need to qualify and renew them every year, or find a replacement.

Some scholarships are for certain majors or courses of study, and others are based on heritage, ethnicity, your student's interests and passions, or simply an essay on a certain topic.

There is a world of scholarship sources out there, and weeding through them all can be a time-consuming process. Here are a few tips for making the most efficient use of your student's time and efforts in finding and qualifying for scholarships:
First and foremost, make sure that you submit the FAFSA (Free Application for Federal Student Aid) in a timely manner during your student's Senior year in high school - and each year that they are in college. (With our clients, we help make sure this is done as soon as possible after October 1st.) Some scholarships may be based on this important aid form.
 
Use national scholarship search engines like www.fastweb.com and www.cappex.com which will send you notifications of scholarships that you qualify for.
 
Check with your Guidance Counselor at your high school for information on any local clearinghouse scholarships from the community or local organizations. (For high school students in Columbus, for example, the Columbus Foundation is a great place to look for scholarships.)
 
Look into heritage and religious organizations as well as:

Banks
Places of parent's work
Your state of residence government site
Chamber of Commerce
Local Church
Rotary Club
Organizations that you may be interested in working at someday
Junior League
United Negro College Fund
Latino Scholarship Funds (Latino College Dollars)
 

Talk to the financial aid advisor at a college to see what opportunities are available there
 
Spend more time looking locally for scholarships than nationally. On average, National scholarships can receive 10,000+ applications, while many local scholarships receive more like 50 – 100 applications per year. Your odds are much better looking locally.
 
Visit local college financial aid office websites for suggestions
 
Talk to your friends
 
If you are a Keystone College Planning client, remember that you can log into your Family Dashboard and search the Private Scholarships database for a plethora of different scholarship opportunities.
 
Last but certainly not least, remember that the best sources of aid are usually the colleges themselves. Be sure your student maximizes all opportunities available to obtain aid from the colleges he/she is applying to. (Keystone College Planning clients can find a full list of available scholarships and aid opportunities plus instructions to apply under each school in the Family Dashboard.)
While there are many other important factors to a successful college plan, such as choosing the right school for the right value, maximizing financial aid opportunities, helping your child choose the right career path and avoid wasted years in school, and planning strategically on how to pay for college, any supplemental scholarships that your student may be able to receive can definitely help!
If you would like to learn more about our comprehensive student and family college planning services, including our targeted scholarship search tools, contact our office today to schedule a free college planning strategy session.
Photo by Nick Youngson CC BY-SA 3.0 Pix4free
Disclaimer:
The information presented here is for educational purposes only and is not a solicitation for the purchase of any financial product. The statements and opinions expressed are those of the author and are subject to change at any time. All information is believed to be from reliable sources; however, presenting financial professional makes no representation as to its completeness or accuracy. This material has been prepared for informational and educational purposes only. It is not intended to provide, and should not be relied upon for, accounting, legal, tax or investment advice.