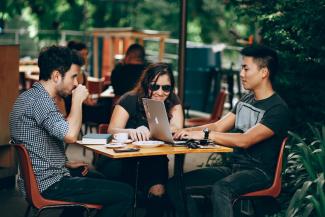 5 Retirement Planning Tips for Millennials
The generation known as "Millennials" is facing many potential challenges when it comes to retirement planning. In general, young Americans typically have a hard time thinking that far ahead, and tend to wait to start saving until late in the game. The Millennial generation in particular is focused more on "experiences rather than physical things" when it comes to spending, according to this often-cited study.
However, with pension plans mostly phased out for this generation, and uncertain stock market returns possible in the future, Millennials could face severe shortages when it comes time to retire – unless they start planning ahead sooner rather than later.
Here are 5 tips to help Millennials plan for a secure retirement that will provide them with the experiences they want later in life:
1.) Incorporate Savings Into Your Budget
Planning ahead is key to financial security, and this applies not just to short-term goals, but also to your future retirement plans. Creating a habit of saving now for the things you want (including a home, fun vacations and other experiences, cars, etc.) will help you to prioritize money that you need to set aside for future needs – including retirement.
2.) Save More Than You Think You Need
There are countless ways to spend your weekly or monthly paycheck, all of which are likely competing for your attention. However, with uncertain market returns likely for the next several decades as Baby Boomers pull money from the markets for retirement, you will likely need to save more than your parents' generation did in order to have enough to live on after you stop working. Recommendations for how much of your income you should save range from 15% – 20% and up, but regardless, the number is likely more than you are saving now.
3.) Don't Wait
When it comes to growth on your retirement savings, time is your most valuable asset – and the least painful to properly implement. For example, if you start saving 10 years sooner, you can essentially double your earnings on your savings without increasing your contributions. Conversely, by waiting 10 years, you will cut your earnings by more than half, meaning you will have to work harder, longer, or stretch your budget to save more to make up the difference later on.
4. Get the Insurance You Need While You're Still Young and Healthy
Waiting to buy life insurance, long-term care insurance, or disability insurance can cost you significantly more if you are in poor health by the time you apply. By purchasing any insurance you may need while you are still young, you can enjoy life knowing you are fully protected for future needs, and at a much lower cost. Cash value life insurance can also be an option to save money for retirement in a tax-advantaged and low-risk environment.* In this case, purchasing young will benefit you in multiple ways: your rates will be lower, meaning more of your premiums will go towards cash value, and you will have a longer time span for your cash value to grow and compound (see #3 above). (Want to explore how this type of savings vehicle could work for you? Contact us for a free initial strategy session.)
5.) Seek Qualified Help
While Millennials may be the first internet generation, when it comes to financial planning, nothing can replace the personalized advice of an experienced financial professional. Getting correct answers to your financial planning questions is important if you want to avoid pitfalls and make the right decisions. Don't be afraid to speak with multiple financial professionals until you find one that is right for you. Seek out someone who will consider your personal goals in the long-term and design a strategy that's custom-built specifically for your needs, instead of just offering you the same product or portfolio that they sell to everyone else. We believe that a good financial plan is not a one-size-fits-all solution!
Saving for retirement may be challenging for the Millennial generation, but with proper advance planning, and the right guidance, you can enjoy many wonderful experiences in your retirement years, without having the stress and worry of running out of money.
Whether or not you are a Millennial, we offer unique, customized strategies to help you plan for a comfortable and enjoyable retirement. Contact us today to speak with one of our qualified financial professionals, who can help make sure you are on track to achieving your most important short and long-term financial goals and objectives!
Sources:
http://eventbrite-s3.s3.amazonaws.com/marketing/Millennials_Research/Gen_PR_Final.pdf
https://www.usatoday.com/story/money/personalfinance/2016/10/13/millennials-save-retire-experiences-things/91287824/
Disclaimers:
* Assuming policy is correctly structured and properly utilized. Consult with a qualified advisor and a tax attorney regarding any potential tax consequences for your particular situation.
This document is for educational purposes only and should not be construed as legal or tax advice. One should consult a legal or tax professional regarding their own personal situation. Any comments regarding safe and secure investments and guaranteed income streams refer only to fixed insurance products offered by an insurance company. They do not refer in any way to securities or investment advisory products. Insurance policy applications are vetted through an underwriting process set forth by the issuing insurance company. Some applications may not be accepted based upon adverse underwriting results.  Death benefit payouts are based upon the claims paying ability of the issuing insurance company.