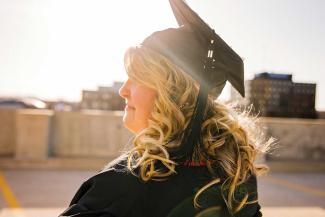 Finance 101: A Lesson in Helping your Student Pay for College
You think back fondly on those halcyon collegiate days--studying in the quad, late-night pizza, tailgating before the big game, dorm living, tossing your graduation cap in the air...beyond the lifelong friends and the parties and fun, college helped you get to where you are today. Looking ahead, your student is planning on following in your footsteps and will be receiving that admissions letter of acceptance sooner than you think.
Unfortunately, it's getting increasingly difficult to afford college. Formal higher education is the institutional stamp of approval that will grant your child the entrance into the workforce, but that stamp comes at a steep cost that has increased by nearly 500 percent since 1985.(1) The average cost of tuition and fees for the 2020-2021 school year was $10,560 for in-state residents at public colleges, $27,020 for out-of-state residents attending public universities, and a $37,650 at private colleges.
These numbers mark only a slight increase over the previous year due to the COVID-19 pandemic, as colleges are doing what they can to maintain attendance. However, in general, college tuition costs have been increasing at 2-4% per year over the past decade. And this doesn't even account for the other costs for college, such as room and board, books, and other travel and living expenses. If you factor these in, you are looking at $21,950, $38,280, and $49,870 respectively.(2)
It's no wonder that student loans end up being the solution for most college-bound students. However, these come tied to their own set of issues; 44.7 million Americans hold student loan debt at a collective total of $1.71 trillion as of Q1 2021(3) and these numbers only seem to be increasing every year.
Of course, there are scholarships and grants that lower the price tag of higher education, but they also make navigating the complicated world of financing college even more challenging.
It is important to learn all that you can and get as much help as you can to help make these costs more manageable for your family.
Be sure to take these tips into consideration as you help your student apply and prepare to pay for college:
1.) Know your budget.
Like purchasing many large, expensive items like a car or a house, it's wise to know your budget going into the search for the right-fit school. If you don't, you run the risk of test driving luxury cars out of your budget or touring houses outside of your price range and then what you can actually afford seems not good enough. The same goes for schools. If your family cannot realistically afford the University of Chicago (the most expensive college in the country as of tuition year 2020-21 at $81,531/year),(4) then don't tour the campus. And sure, a full ride scholarship would be great...but isn't likely. Narrow down choices within a reasonable range (and with more than 4,726 degree-granting institutions in the U.S. there are indeed plenty of choices), and then help your student decipher what's important to them in relation to what's offered at the options from there.
Start acknowledging affordability by running the numbers through an Expected Family Contribution (EFC) calculator to learn what colleges are likely going to say your contribution should be. If you calculate a high EFC number (meaning you are wealthier), you still won't want to pay full price for school. In that case look for schools that are generous with merit scholarships for students (regardless of financial need). If you calculate a low EFC rate, look for schools that have substantial financial aid.
2.) Understand the financial breakdown.
Your student likely won't be paying the total sticker price for a year's tuition at college. That means you're looking at the total net price (sticker price minus total aid). When your child receives the acceptance letter with the financial aid award breakdown (scholarships, grants, etc.), it can be difficult to decipher what means what. For example, the line item "financial aid" can be used to describe what are actually loans and have to be paid back. Then there's often a question around how much the Expected Family Contribution is and how it can be applied to what--is it just tuition or does that include room and board? Use the net price calculators on each school's website to compare what your actual price may be at each institution.
3.) Expand your search.
Don't be afraid to expand the search parameters for colleges. Some colleges are so popular they see such high applicant numbers they can afford to be selective in who they accept and who they offer money to, resulting in less generous overall financial aid. Schools with lower application rates are usually small, lesser-known, private colleges, and some of these may have higher reserves of financial aid to grant, as well as a smaller applicant pool to support.
4.) Learn from an expert.
Make an appointment with the financial aid offices at the colleges your student is considering to gain a better understanding of how they will calculate financial contribution. They'll be able to tell you if elements like home equity will be factored in. (This is not information required for the FAFSA, but is required information at some private colleges.) They will also be able to answer any specific questions that apply to your situation that a general college financial FAQs webpage cannot answer. Additionally, a meeting with a qualified college planner well before that first semester bill comes due is wise to ensure you have everything squared away in terms of paying for college in the most efficient manner for your family, without impacting your future retirement.
Want help planning for the high cost of college? We can help you choose the right school for the right value, position your student for success, maximize your financial aid opportunities, and develop a solid plan to pay for your college gap. Contact our office today for a FREE initial strategy session!
Resources:
*This content is developed from sources believed to be providing accurate information. The information provided is not written or intended as tax or legal advice and may not be relied on for purposes of avoiding any Federal tax penalties. Individuals are encouraged to seek advice from their own tax or legal counsel. Individuals involved in the estate planning process should work with an estate planning team, including their own personal legal or tax counsel. Neither the information presented nor any opinion expressed constitutes a representation by us of a specific investment or the purchase or sale of any securities. Asset allocation and diversification do not ensure a profit or protect against loss in declining markets. This material was developed and produced by Advisor Websites to provide information on a topic that may be of interest. Copyright 2023 Advisor Websites.