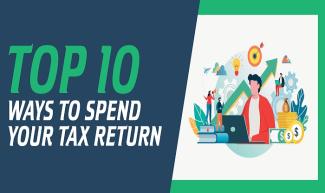 [Infographic] 10 Financially Savvy Ways to Spend Your Tax Refund
If this tax season was kind to your wallet, and you have money coming your way, it's time to decide how to spend your dollars. Here are 4 areas to consider making smart use of your tax refund.
Increase Your Emergency Funds
Aim to have one year's worth of living expenses set aside. You'll want a liquid investment so when the need arises, you can access your money quickly and without penalty. If you don't have liquid cash somewhere that you can get your hands on it quickly, like a money market fund or savings account or cash value life insurance policy, use your tax refund to start an emergency savings fund as your first priority.
Pay Down Your Debt
Credit card, auto, and home loans can have some unbelievably high-interest rates (upwards of 13%-20% interest), and if you're carrying revolving debt, sinking your tax refund into it could pay off for you big time. Consider the following scenarios, and if you fall into either of the first two, consider using your refund to pay off some debt.
I pay the monthly minimum
I add a little extra each payment
I pay off the balance each month
Fund Ownership Improvements
When you make a significant investment such as a home, it can become a valuable asset - unless you neglect it. If your home needs repairs, taking care of them now can save you significant amounts of money in the long run; home repairs tend to get more expensive if something isn't fixed right away.  
Do you have home repairs that you keep putting off?
What about your car? When was your last complete auto tune-up?
Are your electronics and appliances running efficiently, or is your water heater or furnace on its last legs?
Create a Rainy-Day Fund
Begin a special savings fund now for large future expenses or purchases, and when an opportunity arises, you won't feel strapped to pay for it. Start with a chunk from your tax refund and continue to add to the savings regularly at a comfortable rate. Here are a few big items you may want to use the funds for in the future:
Using my fund for an overseas vacation
Using my fund for future education costs
Using my fund to buy a boat
The infographic below shares more helpful tips to ensure you make smart decisions with your money this tax season.
Disclaimer:
This content is developed from sources believed to be providing accurate information. This information provided is for educational purposes only and should not be construed as legal or tax advice. One should consult a legal or tax professional regarding their own personal situation. Neither the information presented nor any opinion expressed constitutes a representation by us of a specific investment or the purchase or sale of any securities.