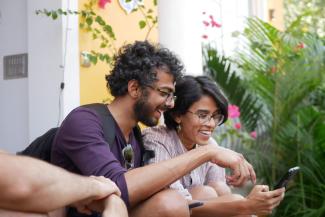 5 Smart Financial Tips for Young Adults
The older we get, the more time seems to fly, doesn't it? This can work against us when it comes to financial planning, as we all know that the earlier you start saving, the better, because of the power of compounding interest. And if we're not careful with our spending habits, the phrase "where does the time go?" can easily be replaced with "Where does the money go?". This applies to both the old and the young alike, so it pays to start early with good financial habits.
If you (or your children or grandchildren) have recently entered the work force, that means it's time to get started off on the right track financially right away. Here are 5 financial tips to help young adults build a secure financial future:
1.) Know your credit score
If you aren't already building credit, it may be a good time to start since your score is largely based on your longest-held line of credit (credit card, loan, etc.)
If you're looking to boost your score, focus on always making timely payments on all of your accounts
2.) Know your debt-to-income ratio
When paychecks start coming in, it's easy to either spend them on an expensive lifestyle or simply let the money slip through your fingers on small daily expenses and purchases that you don't even notice (especially if you use a credit card), so make a budget and be aware of what you're making and what you spend or owe on debt
As the market fluctuates and inflation and interest rates increase costs, it's especially important to be aware of what you owe on any outstanding debt versus what you're bringing in
3.) Set and stick to a budget
Many financial experts suggest sticking to the 50/30/20 rule: 50% Needs, 30% Desires, 20% Savings
Stay on top of living expenses and periodically look for ways to lower them, which can make more substantial purchases easier to handle
No one predicted the latest pandemic, but many wish they were better prepared, so be disciplined in putting money into your emergency fund on a regular basis, and don't dip into it unless it's truly an emergency.
You should also think beyond an emergency need and prepare for a rainy day – consider also saving a small portion for a last-minute mental health vacation or a visit home to see family and friends
5.) Start saving for retirement
The earlier you start saving for retirement, the more time your money will have to grow and multiply, so set yourself up early in life!
As we age, the unexpected often happens, with medical and healthcare costs taking a chunk out of our savings, so setting up a secure retirement nest egg, and also planning for future healthcare or long-term care needs while you're young and healthy is a smart strategy
Need help? Want some guidance getting started with your financial plan? Reach out to our office to speak with one of our financial professionals who can help you develop a customized plan for your financial future!
---
Sources: